Weekly Economic Update
This is where house prices doubled (or more than doubled) in 2021
Australian house prices increased by 24.1 percent over the past 12 months. This is the highest annual growth rate Australia has ever seen. The surge in pricing has been unusual because not only has it been consistent across Australia, but also because it has happened everywhere around the world.
While national price growth has been record breaking, in some places we have seen significantly higher growth. Prices have doubled in eight Australian suburbs and there are some consistent trends amongst these high growth areas.
Beachside – higher demand for holiday homes and more people working remotely drove beachside locations through the pandemic. Five of the eight suburbs that doubled in price were beachside. South Carnarvon, 900 kms north of Perth remains relatively affordable, despite doubling, with a median of $195,000. Meanwhile, Whale Beach in Sydney now has a median of over $6.6 million
Regional – only one suburb on the list was not regional and that was Whale Beach on Sydney's northern beaches.
Mining – mining towns did very well in 2021 however topping the list was Lightning Ridge in north-western NSW with price increasing by over 150 percent. Famous for black opals, there could be some truth to Vogue's report that they are coming back in fashion.
Agriculture – Great agricultural conditions flowed through to residential property in many places in 2021. In terms of price growth however it was Bourke and Hillston that topped the list, both more than doubling in 2021.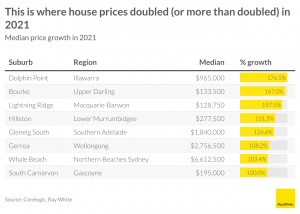 Where is the next Byron Bay? (end of the year Summer edition)
This week I took another look at the "where is the next Byron Bay" analysis I did mid year. This time however I am no longer restricting the search to beachside as there are a heap of inland areas where people like to holiday, and have the potential to achieve "Byron Bay" status
For my highly scientific analysis, I am putting in the following criteria:
It no longer needs to be near the beach but does need to be somewhere where people like to holiday
It can't be within easy commuting distance to a capital city
It has to be priced at or under $1 million
It has to be achieving decent price growth already, at least 20%
Rental growth also has to be strong, at least five per cent per annum
Long term growth has to be solid with annual growth of more than five per cent per annum over 10 years
I haven't visited all these areas with this criteria so I am relying on internet searches to see whether the area is particularly attractive.
Orange, NSW
Yamba still fits the bill for a Byron Bay potential but as an inland alternative, Orange also fits all the criteria. Orange has a median of $545,000 and has seen 20.8 percent price growth over past 12 months. It is also a very desirable place to visit.
Orange has a lot to offer. It is in a beautiful region, has lots of fun stuff to do and has an attractive main street. It has also growth into a particularly popular tourist destination.
Bright, VIC
In this update, I have taken Cape Woolamai off the list as its rental growth has slowed too much over the past 12 months. It is still however a very desirable place to buy a holiday home with prices having risen 34 percent over the past 12 months.
As an alternative inland Byron Bay, Bright covers all the criteria. It currently has a median of $820,000 and has seen 27.6 percent price growth. While it doesn't have a beach, it does have a river which you can swim in. Plus it is close to the snowfields of Mount Hotham and Falls Creek. It also has a nice town centre.
Bicheno, Tas
Penguin, my pick for Tasmania's Byron Bay, still makes the list but now I am more interested in Bicheno. Bicheno has a median of $565,000 and has seen 30 percent price growth.
Bicheno is located on the east coast of Tasmania, has a beautiful beach and is close to one of the best diving spots in Australia. It also has a large range of places to eat and an annual Food and Wine Festival. It is also a popular holiday destination.
Airlie Beach, QLD
My past pick, Palm Cove, seemed a bit far away for more people so this time I am choosing Airlie Beach in the Whitsundays. The town has a median of $881,000 and has seen 30 percent price growth. There is a lot to do – it is close to both the Great Barrier Reef and to the Whitsundays. Plus there is a lot to do in the town itself such as nice restaurants, swimming and further afield, hiking.
Gnarabup, WA
I had Dunsborough but price growth has slowed too much. So instead I have chosen Gnarabup, close to Margaret River. Gnarabup just scrapes in with a median of $1 million and has seen price growth of 37 percent. It is located on the mouth of Margaret River and has the longest and most popular beach in the region. It is also a very nice place to visit for a beachside holiday
Robe, SA
There are a lot of beautiful beaches just outside of Adelaide but given one of my criteria was that the town had to not be within commuting distance to a capital city, I had to look a bit further afield. For this month's update, I am sticking to Robe on the Limestone Coast. It is relatively affordable with a median of $452,000. It has nice beaches and an historic town centre and sounds like a pretty relaxed place to visit.
To read more, click on link