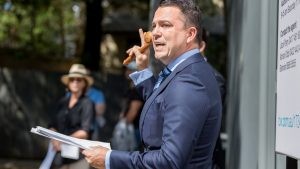 Clarence White is a three time winner of the REINSW Award for Excellence in Auctioneering (2014, 2017, 2018) and one of Sydney's leading independent real estate auctioneers. Clarence spent 6 years calling auctions for two leading brands before establishing his own independent auction business in 2018. Clarence works with leading agents in Sydney's key prestige marketplaces in the inner west, eastern suburbs and lower north shore.​
In addition to his auctioneering work Clarence has held real estate roles as sales agent, sales manager, operations manager and general manager, giving him a depth of knowledge and experience in real estate that enables him to value add around the auction process by assisting with pre-auction, auction floor and post auction conversations, negotiations, strategy and training.
"Value as an auctioneer is about more than just calling the auction. It's buyer conversations that set up the bidding, vendor conversations that frame price expectations, participating in auction-floor negotiations and most importantly, instinctively reading the auction floor and deploying the right strategy in crucial moments during the auction to ensure maximum selling price is achieved."
The work of an auctioneer
Auctioneers are specialised surveyors whose primary function is to estimate a property's market value on behalf of their clients. They often perform thorough inspections and surveys of the property to check its location and valuation.
Primary duties
Conduct in-depth assessments of structures and land to review and identify any variables that can affect its value.
Provide an in-depth valuation of the property to the clients and essential advice on sales and acquisition.
Create detailed written reports of inspection sessions.
Provide valuation and data for a legal or business organisation to help with compensation claims and disputes.
Conduct auctions and organise marketing processes.
As a rule, the auctioneer must ensure that he represents the seller's welfare with due fairness and competence. The auctioneers are under a fiduciary position to perform their duty over the auction's process in full as the seller's agent. Even more, they should also practice the utmost exercise of their duties on behalf of their client.
What happens in a bidding
When attending bidding, the auctioneer will call for an open bid or the first bid coming from the attendees. During this stage, they will control the bidding's flow and encourage the attendees to bid higher. At the end of the session, each bidder will decide the amount that they're willing to pay, and the seller will determine whether they'll accept it or not.
The organisers will attend the record and acknowledge every bid so that there won't be any misinterpretations about each deal. Also, they won't be accepting any more bids once the hammer falls.
Auctions are often full of emotions. But a professional auctioneer knows how to control the situation and make the buyers feel comfortable. That's why we can't stress enough how important the role of a professional auctioneer is during every event.